It is with a heavy heart that we post this.
-------------------
Guy E. Coro Jr. WINSLOW -- Guy E. Coro Jr., 69, of Winslow, died Jan. 27, 2008, at his home in Winslow, with his family by his side.

He was born Dec. 2, 1938, in Waterville, the son of Guy E. And Ila M. (Hayes) Coro Sr. He graduated from Waterville High School in 1958. From there he entered the armed forces until 1960. On Nov. 13, 1963, he married Carmen Poulin in Waterville.

He worked for Maine Central Railroad for 32 years, retiring in November of 1993. He then enjoyed working part-time for his son-in-law at Shredding On Site. He was a member of the Capitol City Rifle and Pistol Club where he enjoyed competition shooting. Guy was a dedicated Ham radio operator, and talked with people in many countries. He used Morse code mostly, and was very good at it. His call was W1EWW.

Guy's greatest joy was spending time with his lovely wife, family and friends. He enjoyed his camp on North Pond for 13 years. Watching his grandchildren play baseball was one of his greatest pastimes and it wasn't uncommon for him to see three games in one day. He loved spending time fishing and hunting at his son's place, Pine Grove Lodge in Bingham.
_______________________________________
Guy Coro has been a big help in sending us photos. Here are the latest ones. look at the size of those fish.
We got this email from him:
Hi Larry, Carmen and I went to Big Lake, Alaska and visit my Army Buddy Vern Logan And his wife EV. First time in 48 years that we seen each other, We had a great time, Vern is still the Same person never changed at all just a little older. Vern is a guide for hunting and fishing, We went to his fishing camp which was four hours by boat. caught lots of salmon. will send couple of pictures. Guy
--------------------------------
We will miss his excellent photos.

First Lets look at these two, and see what 48 years does to us.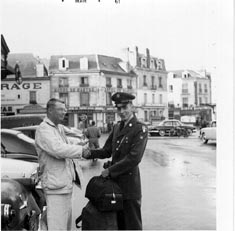 Coro (right) shaking hands with Sgt. Johnson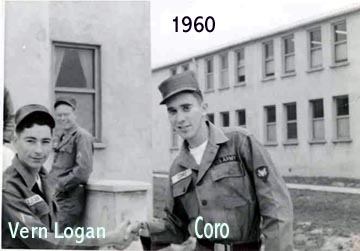 Above: Vern Logan and Guy Coro in 1960
Below: Vern and Coro 48 years later