Saumur Signal Depot - A Nosta
lgic Trip Back
Our French Army Depot neighbors, the Saumur Signal Depot, will host a reunion this year in Williamsburg, V
irginia.
The dates for the Saumur Signal Depot reunion for this year are June 10, 11, 12, and 13, 2012
, at the Comfort Inn, Williamsburg, Virginia. The address is: 706 Bypass Road,
US 60, Williamsburg, VA 23185.
for more information on the Saumur Signal Depot Reunion, click on
http://www.egroelle.net/tuesday.html


Follow this link to visit the Saumur Signal Depot Website
http://www.egroelle.net/index.html
.


CHINON LWR's LAST REUNION
This in From Phil Pittman:
I just received an e-mail from my friend in the Chinon area regarding the upcoming 40th anniversary of the closing of the Depot. There has been an active group of former French civilian employees who have met at least annually for many years. The following is the announcement regarding what they consider will be the last ceremony.
"On 22 Sep 2007, 11H00, for the last time, there will be a ceremony in the Headquarters Loop to celebrate the 40 years of USA Depot closing and the 20 years of veteran French personnel annual meetings. French employees, their families, militaries and French dignitaries, Governor's Representatives, Mayors, etc... will attend. Exhibition of Military vehicules. Both flags will be raised-up at the same place. National anthems will be played by local Harmony of Huismes. Speeches. Free cocktails will be offered by Saint Benoist City Hall. It will terminate by a lunch meal where everybody will meet at La Chappelle Saint Blaise (next to Azay) . No one has forgotten those we met or worked with - Forever they will last in our memory"
She asked if you could place this note on the site to let us know that the former Franch civilian employees remember "The American Years" in Chinon.
NOTE: It is our pleasure to post this.
Larry
----------------------------------------
09/09/2007 Paul Tupa

This years get together will be held at the Clarion Inn and Fundome in Washington, DC. It is very near the U of Maryland at College Park. The dates we blocked are Fri, Sat & Sun, Oct 19, 20 & 21. The dates were changed so we could gt the weekend rate which is $89.00 per night plus tax. This includes a deluxe breakfast. The contract I signed reserving the block of rooms says we MUST reserve our rooms NLT Sep 19th or they will release the rooms for anyone to book. To reserve your room you can call: 1-800-442-1644. toll free. Parking is free.

Best College Park Inn & Fundome
8601 Baltimore Boulevard
College Park, Maryland 20740
Tel: 301-474-2800
For more info you can go to: http://www.bwcollegepark.com/ the Inns website.
Sn Antonio, Texas July 29, 2006

=======================================
Hi All!
Our Chinon Reunion get-together is being planned in Colorado Springs, Colorado on October 5, 6, and 7. (Monday the 9th Columbus Day observance).
The contact hotel for our get-together is the Rodeway Inn at 555 West Garden of the Gods Road. Contact person is Terry Alien. Reservations should be made individually "at least six weeks in advance", by calling 1-800-828-4347 or 1-719-593-91 19. Be sure to mention that you are attending e Chinon Reunion. This hotel provides a pool, fitness center, laundry facilities and a "free hot breakfast", (basically a toaster, waffle bar, microwave, cold cereals, fruit juices, bagels, fresh fruit and the usual hot coffee and water). The cost per room is $45.99 plus tax, to accommodate one to four persons to a room, There are other hotels in the area and information will be provided upon request.

There are options for the Saturday evening banquet meal, as there are restaurants within walking distance. We talked with two of them and they would accommodate us with an area for our group. We just let them know the day before how many. There is a large variety of restaurants within a reasonable driving distance. Information on your preferences and/or ideas would be helpful.

Some of the local attractions which may be of interest are: Air Force Academy (1/3 mile walk from visitor's center to chapel); Garden of the Gods; Olympic Training Facility; Seven Falls; Pike's Peak (via Cog Railroad or auto); Cave of the Winds; Manitou Cliff Dwellings; Royal Gorge Bridge & Park (hour's drive south of Colorado Springs); and Museums such as: World Figure Skating Museum & Hall of Fame; John May Natural History Museum; Miramount Castle & Museum; Ghost Town Museum; Third Cavalry Museum; Van Briggle Pottery (studio tour); Pro-Rodeo Hall of Fame; Colorado Springs Pioneers Museum; Money Museum; and Peterson Air & Space Museum.

Our address is 415 Mason, San Antonio, Texas 78208. Phone is 210-224-9608 and email is rceisermanntx@yahoo.com.

Let us know how we can help make your visit a pleasant and memorable experience. We look forward to seeing you at the reunion.

Bob and Nancy Eisermann

-----------------------------------------------------

Hello everyone a little update on our last reunion.

We had a nice get together in Charleston last month with lots of stories being told. Some of those stories seem to have become even larger than some of us remembered, but were fun to listen to anyway.

This was the fourth reunion I have attended and the first one I can recall where all of the attendees went as a group to almost all of the proposed events. Everyone had arrived by Tuesday evening Oct. 18, and we all went to dinner at one of the seafood restaurants nearby, and enjoyed telling stories, and what we had been doing during the past year.

On Wed we all took a boat to Fort Sumter, and upon return most of us toured some Navy warships that are part of a recreation area called Patriots Point that the Ft. Sumter tour boat was part of. I toured the aircraft carrier Yorktown which took almost two hours, and pretty well tired me out after climbing up and down ladders on the ship. That evening most of us went on a haunted house tour of Charleston.

Thursday we boarded a bus for a guided tour of the historic district of Charleston. We had an excellent driver who spoke a lot like Rhett Butler from Gone With the Wind. This was a very interesting tour and we found out that many of the mansions along the river are still owned by the families that owned them during the Civil War. The is also an upscale shopping area that is part of the new downtown, and which we got to walk around and checkout the wares being offered before the bus came back to take us back to the motel. Then some of us went on a Plantation tour. We saw the Magnolia plantation. Much of that was a walking tour of some of the grounds and the house. It also had a tram ride that went around the outer part of the plantation where the rice fields had been. Nice tour with lots of nice scenery, including birds, alligators, and flowers.

That evening we all went to a restaurant for our final meal together. We then returned to the motel and went to the hospitality room where we talked and took some group pictures. Hopefully next year we will have you in the picture. We also discussed where to hold next years get together, and tentatively agreed that Colorado Springs, CO would be where we would hold the next one. Bob Eisermann took the lead and will look into hotel costs and what were some of the attractions in the area.

Those attending were:

Tom & Eileen Gorman - Chalfont, PA
LeRoy & Janie Wilcox - Lake Katrine, NY
Carol & Cathy Strodhoff - Panora, IA
Noel & Joyce Dimanche - Savoy, MA
Maureen Morgan & daughter Debi - Douglas, GA
Nlson & Pat Harris - Lewes, DE
Bob & Nancy Eisermann - San Antonio, TX
Rocky & Sam Peck - Rock Cave, WV
Bill Spraggins - Friant, CA
Paul & Sharon Tupa, The Villages, FL

From the above list you can see some people came a long ways to attend, and everyone said they planned on attending next years. So we hope that you will seriously consider attending our get together. Please contact Bob Eisermann or myself for more information about the upcoming reunion or the past one.

Best regards,

Paul Tupa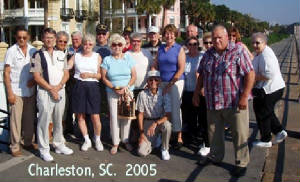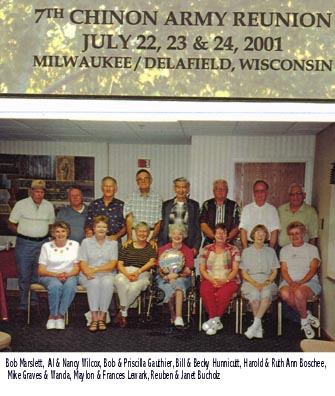 Poitiers American High School Reunion
The reunion is Sept 15-18 at the Mayflower Park Hotel, Seattle, Washington This is the website address for Poitiers American high school. The information is under Sleepless in Seattle. http://home.pacbell.net/mrsthom/poitierspanthers.html Also if there are any Chinon (and surrounding area) folks in the Vegas area, I'd love to hear from them.
Thanks so much. Jeani Roberts
---------------------
Here is the update on the Murfreesboro, Tenn. Reunion
The Reunion was held June 23-24-25 With check out time on the 26th. Hosted by Mike Graves and Wanda others in attendance were:
Reuben & Jan Buckholz - north Dakota
Bill & Becky Hunnicutt - North Carolina
Maylon & Frances Lewark - Virginia
Bob Marslett - Arizona & Delaware
Al & NAncy Wilcox - Wisconsin

Plans are for a 2007 reunion in Arizona Bob M. Host.
The web host welcomes corrections.
-----------------------------------
The reunion that gathered in San Antonio last year have this years reunion all set. Paul Tupa (60th Station Hosp.) has sent the following information. pmtupa@comcast.net
-------------------------------------
After looking this e-mail over I realized I sent it out without some crucial information like the DATES!!! and prices. so here are the dates: October 18, 19 & 20. Checkout on Friday the 21st. Prices are $79.00 for a regular room plus tax. $89.00 plus tax for a Queen bed and suite.

Hi Everyone.
I am sending this e-mail out to everyone who has an e-mail address on the roster I was given when I agreed to try to help setup this years reunion. I feel that e-mail is much more cost effective than sending out stamped mail. Those e-mails that are returned because of bad addresses I will send a invitation to via the postal service. If anyone wants to removed from the address contact list please let me know.
It was decided at our reunion in San Antonio last year to hold this years reunion in Charleston, SC, and again it is in October which is the biggest month of the year for tourists to visit the Charleston area. This created a problem as most hotels/motels were booked solid for the month on the weekends, and the cost per room went up accordingly. That is why I sent out an e-mail to many of you to see if it was a problem if we held our get together in the middle of the week. The response I got was it didn't make any difference to those of you who responded so I found a motel that could accommodate us, and provide us with a hospitality room as part of the package at a reasonable price for the area.
The motel is The Quality Inn & Suites, located at 196 Patriots Point Road, Mount Pleasant, SC. The Inn is actually just across the river from the Battery, and the downtown area in Charleston so is in a great location. A hot breakfast is included in the price which can be a nice savings. It is also located very near the Naval & Maritime Museum, home of the carrier Yorktown and 3 other ships we can view. Also from Patriots Point several river cruises depart including the Fort Sumter one.
To reserve your room call the Inn at (843) 856-8817 and say you are with the Chinon, France Reunion group to get the reunion room rate. You will need to provide a credit card guarantee to secure the reservation. The cut-off date to receive the group rate is Sept. 16, 2005. You might want to book as early as you can as there is a limited number of rooms in the special rate bloc.
Those of you that plan on attending please respond back to this e-mail and I will provide you with directions to the motel from various highways that go into Charleston. There is a lot to do a see in Charleston, so we hope to see all of you there.
If you know of any of our fellow soldiers who were in Chinon please pass this information on to them. I am leaving tomorrow July 12th for two weeks so if you don't hear back from me right away I will be getting back to you hopefully before the end of July. See you in Charleston
Paul Tupa 60th Station Hospital
The Chinon Reunion took place in San Antonio on October 28-31, 2004 as planned. Everyone attending said they had a really great time and spoke highly of the hotel accommodations. Attendees began arriving Wednesday and Thursday. We went as a group Friday to Fort Sam Houston, visiting the Medical Museum, the old Medical Training Complex, the quadrangle and a late lunch at the Officer's Club. In the afternoon we visited the Sunken Gardens and Brackenridge Park. Saturday we broke up into groups according to individual special interests, visiting selected sites such as the Alamo, the Missions, the Tower of the Americas, Riverwalk, boat ride on the river, Buckhorn Hall of Horns, Rivercenter Mall, El Marcado and other historical sites in the downtown area. Our Saturday night banquet was served at the hotel and was an extra special time of food, fun and fellowship. Special thanks to our meal servers, the Brian Barber family and the Jay Eisermann family, and a special speaker, Col. Dick Agee. Col. Agee is Deputy Chief of Staff at Fort Sam Houston and spoke about changes in the medical field, inovative training with maniquins and medical support break throughs on the battlefield. Hospital care for the wounded soldier is now within minutes, where it used to take hours to get the same treatment. Col. Agee was a highlight of the evening. If you missed this gathering, you really missed an extra special event!

NOTICE THE NEW DATES!!

Don't miss out on next year's reunion! Charleston, South Carolina, October 18, 19 & 20, 2005.
Hope to see you there keep in touch. Bob & Nancy E.